By: Lesley Fair | Apr 24, 2017 11:29AM
There are oldies but goodies. Then there are oldies and baddies. The FTC warns people looking for business opportunities to watch out for trendy tech scams and retro rip-offs. A New Jersey-based outfit cranked the Wayback Machine into overdrive by putting a contemporary spin on what may be one of the granddaddies of all bogus bizopps.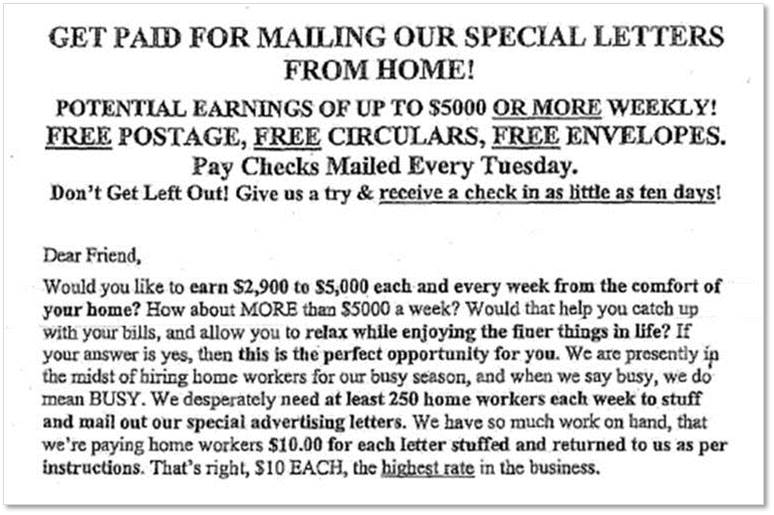 The Envelope-Stuffing Scheme.
The FTC sued Mason Grace Enterprises – a tangle of a dozen business names – for luring consumers in with false claims that they could pocket "POTENTIAL EARNINGS OF UP TO $5000 OR MORE WEEKLY!" for mailing "special advertising letters" from home. Entry into that "$5,000.00 or more weekly" echelon required an upfront fee of $399.
In a move that maxed out the Irony-o-meter, those "special letters" were just flyers pitching another bogus business opportunity promising income for assembling "Get Credit Now" booklets from home. What's more, participants were paid not by the number of envelopes they stuffed, but rather by the number of other work-at-home recruits they brought into the fold.
The just-announced settlement includes a $1.2 million judgment, most of which will be suspended based on the defendants' financial condition. (Of course, the entire amount will become due if it turns out they made any material misrepresentation or omission about their finances.) But the stipulated order includes a key provision designed to protect consumers in the future: It bans the defendants from pitching work-at-home or business opportunities ever again. What about helping other bizopp promoters behind the scenes? Nope. The order bans that, too, as well as misrepresentations about any other product or service.
The reminder to companies making earning claims is that deceptive advertising is deceptive advertising. Before making a pitch, your express and implied claims – including representations about how much money people will make – must be true and backed up by objective proof.
If you're thinking about buying a business opportunity or supplementing your paycheck by working from home, the FTC has resources to help you evaluate those offers.