By: Lesley Fair | Mar 3, 2017 10:18AM
Take me out to the ballgame.
Take me out with the crowd.
Buy me some peanuts and crackerjack
And sound statistics to give us feedback.
Spring training is in full swing and as the book Moneyball describes, sabermetrics – data analysis to help inform decision making – has changed the role of statistics in baseball. As the 2016 Consumer Sentinel Network Data Book suggests, the FTC and other law enforcers are using complaint data in a similar way.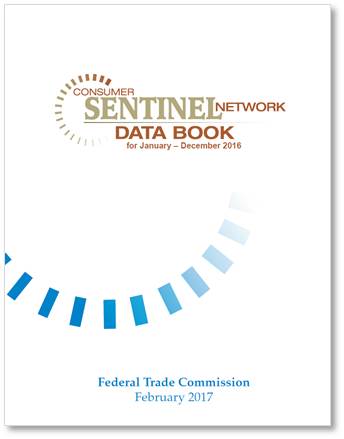 Administered by the FTC and accessed by more than 800 local, state, and federal agencies across the country, Consumer Sentinel is an investigative tool that provides law enforcers with access to a shared, nonpublic database of consumer complaints. Network members like the FTC, IRS, CFPB, Department of Veterans Affairs, and many state Attorneys General upload the complaints they receive into the database. Other consumer and business groups contribute complaints, but don't have access to Consumer Sentinel.
As this video shows, law enforcers use Consumer Sentinel to track emerging trends in scams and deception and to help with pending investigations. But it's wise to take a longer view, too. That's why the FTC issues the Data Book as an annual snapshot of the complaints – more than 13 million in the past four years – received in Consumer Sentinel.
Here are some notable facts from the 2016 Consumer Sentinel Network Data Book.
Total number of complaints:  Consumer Sentinel received more than 3.1 million complaints during 2016 – 42% fraud, 13% identity theft, and 45% other types of complaints. (That number doesn't include Do Not Call complaints, which the FTC tabulates and reports separately.)
The top complaint categories for 2016:  How does your industry rank nationally among sectors most likely to generate consumer complaints?
Debt Collection (28% of all complaints)
Imposter Scams (13%, an increase from last year)
Identity Theft (13%, a decrease from last year)
Telephone and Mobile Services (10%)
Banks and Lenders (5%)
Prizes, Sweepstakes and Lotteries (5%)
Shop-at-Home and Catalog Sales (4%)
Autos and Related Services (3%)
Credit Bureaus, Information Furnishers, and Credit Report Users (2%).
For military consumers, Imposter Scams topped the list, followed by Identity Theft.
Fraud complaints:  Almost 1.3 million complaints were fraud-related. About half of consumers reported what they paid for the product or service. The median amount was $450, for a total of $744 million. A bit more than half of consumers reported how the fraudster contacted them. 77% said it was by phone.
Complaints by state:  Florida had the highest per capita complaint rate for fraud, followed by Georgia and Michigan. Michigan had the highest per capita rate of reported ID theft, followed by Florida and Delaware. The Consumer Sentinel Data Book reports on complaints by state and by metropolitan area. Check the charts in the back to see how your area stacks up, but keep this caveat in mind: The Data Book reflects the number of complaints received, not the actual rate of fraud or ID theft. It could be that residents of some areas are more likely to speak up when they believe they've been taken.
How can businesses respond to what consumers are reporting?
When customers contact you directly with complaints, hear them out. They may be offering insights into what your company can do to win back their loyalty.
With Imposter Scams climbing the charts, share these prevention resources with members of your social networks.
Identitytheft.gov can help victims create a personal recovery plan. Give the link to customers who have ID theft concerns and share it with your HR staff.