By: Seena Gressin | Jan 18, 2017 1:06PM
If you're a tax professional, you're probably already deep into tax season and your time is in short supply. Give us an hour. It can help you save time and money, and avoid scams and stolen data.
On January 30, at 2 p.m. EST, the FTC, IRS, and the National Association of Tax Professionals invite you to a free webinar, Tax Identity Theft: Tax Professionals on the Ramparts. Get practical guidance about imposter scams targeting tax professionals, cybersecurity, and how tax professionals can help identity theft victims.
The webinar is one of several free events during Tax Identity Theft Awareness Week, January 30 through February 3, focused on ways tax professionals, small businesses, consumers, and military service members can reduce the risk of tax identity theft, and recover if it occurs.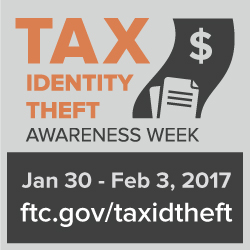 What is tax identity theft? It's when scammers file fraudulent tax returns using someone else's Social Security number (SSN) so they can claim that person's refund. Employment-related tax identity theft occurs when someone uses another person's SSN to earn wages, and sticks the victim with the tax bill.
In addition to joining us for our webinar for tax professionals, you can help your clients lessen their risk by letting them know about these free Tax Identity Theft Awareness Week events:
For details, visit ftc.gov/taxidtheft. You'll also find tweets, tips, and blog posts you can use to promote tax identity theft awareness.
We hope you'll spread the word about Tax Identity Theft Awareness Week, and help make it a tax season of happy returns!