By: Lesley Fair | Sep 15, 2016 12:37PM
One pundit has called it the most pervasive industry that nobody knows about, which is why the FTC has sponsored a workshop, brought law enforcement actions, and just published a Staff Perspective to call attention to the consumer protection implications.
The industry is online lead generation and it's a way to connect consumers who are interested in products or services with the companies that offer them. But as the Staff Perspective suggests, because lead generation tends to be a behind-the-scenes industry, consumers – and many businesses – don't know much about what lead generators do and how they do it.
Lead generation isn't new – businesses have always looked for a receptive audience for their sales pitch – but it's faster, more sophisticated, and more data-intensive than ever. Say consumers are searching online for loans, insurance, or educational opportunities. Their first stop may be a consumer-facing website run by what the industry calls a "publisher." The sites typically claim they can connect consumers with companies selling what they're looking for – if consumers submit information about themselves via a web form.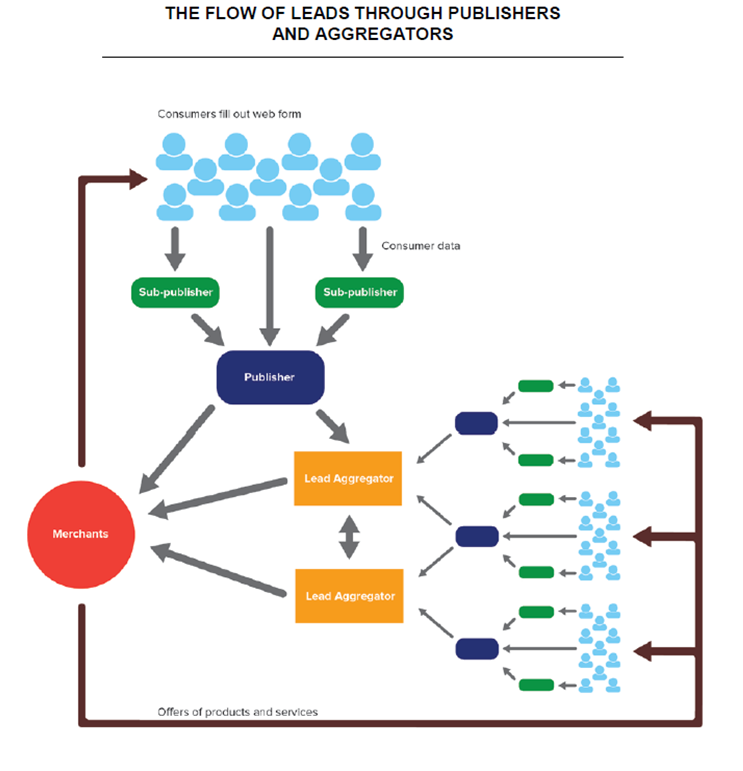 Where does the information go from there? Sometimes the publisher makes a match by selling the lead directly to a company offering what the consumer is looking for, a transaction that may take just seconds. In other cases, publishers sell leads to intermediaries like lead aggregators, who may package them for sale or even resale, adding – from the consumer's perspective – an additional opaque layer
Once a consumer fills out a web form, it can generate multiple transactions. At different points throughout those transactions, members of the industry may reach out directly to the consumer to verify and supplement the information provided online. At the Follow the Lead workshop, industry representatives said that companies involved in lead generation may use data brokers to verify the information consumers submit. It remains unclear, however, the extent to which lead buyers and sellers also may use data brokers to supplement leads with additional pieces of information consumers didn't provide on the web forms. 
Based on panelists' remarks at the Follow the Lead workshop, the Staff Perspective takes a special look at the role of lead generation in online payday lending. Once publishers collect detailed financial information from consumers looking for loans, they transmit the leads to aggregators, who use an instantaneous, auction-style process – known as a ping tree – to sell the leads to lenders or other aggregators. Lenders provide the aggregators with specific criteria to identify their desired customers and specify what they'll pay for individual leads.
The ping tree then transmits leads in real time until the lead is matched with, and accepted by, a lender, who then presents the consumer an offer. If no lender offers to buy a particular lead, those leads may be sold to companies selling products and services the consumer didn't apply for – for example, credit cards or debt relief programs. All this happens behind the scenes and in a matter of seconds.
Some workshop panelists cited what they saw as potential consumer benefits to lead generation: quicker matchmaking with a broader range of businesses and, according to one researcher, the potential for less expensive products and services and more accurate underwriting decisions.  The Staff Perspective summarizes some of the consumer protection concerns, too:  complexity and lack of transparency, aggressive or possibly deceptive marketing, and the potential misuse of consumers' sensitive information. 
The FTC has already brought law enforcement actions addressing deceptive and unfair practices related to lead generation. Read the complete Staff Perspective for insights.