By: Lesley Fair | Sep 20, 2016 1:09PM
There's an upcoming gotta-be-there trade show for your industry. Your company gets a form in the mail from a P.O. box in the Chicago area asking to confirm your address for a trade show listing. You or a staffer signs without giving it a second thought – until you get the surprise of a lifetime.
That's because buried at the bottom of that routine-looking address confirmation was fine print stating that you've now agreed to pay a company you've never heard of $1,717 annually. Next comes a demand that you wire money to a Slovakian bank account. Businesses that resist the shakedown are threatened with extra charges, blemished credit, and lawsuits.
That's the scam the FTC says Slovakia-based Wolfgang Valvoda, Susanne Anhorn and Construct Data Publishers (also doing business as Fair Guide) ran on small companies and nonprofit groups. A lot has happened procedurally since the FTC filed the case in 2013, but the good news for businesses is that a federal judge in Illinois entered a default judgment against the corporate defendant and stipulated orders against the individuals that close the book on this group of business directory scammers.
The defendants are banned from the business directory business for good and are prohibited from attempting to collect payment for any of their business directory listings. The order against Construct Data Publishers imposes a $7 million default judgment, including the transfer of $344,000 currently in the court's registry. The order against Valvoda and Anhorn imposes judgments of $2.1 million and $4.5 million respectively, which will be suspended upon payment of $200,000. Of course, if it turns out they misrepresented the state of their finances, the full judgment will become due.
But that's not the end of the story because the U.S. Attorney for the Southern District of Illinois has indicted Mr. Valvoda on mail fraud charges.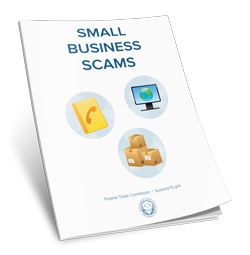 The FTC has warned small businesses and nonprofits about variations on the directory scam, but the announcement is a reminder to mention it to your staff, especially those who answer your phone or open the mail. The best advice is to assume there's no such thing as a "routine" confirmation of an address, business listing, or office supply order. A signature on a form or even a perfunctory – and secretly taped – "uh-huh" on the phone can spin your company into a vortex of unauthorized charges and harassment.
An FTC brochure, Small Business Scams, explains the modus operandi of five B2B frauds and offers advice on in-house procedures to throw cold water on con artists. Pressed for time? Watch the Protecting Your Business from Fraud video for the need-to-know basics.