By: Lesley Fair | Aug 15, 2016 1:13PM
We're not being overdramatic when we describe it as a business executive's nightmare: a shadowy contact from a hacker who has infiltrated a company's network, encrypted the data, and now demands ransom for a key to access the files. On September 7, 2016, law enforcers, security experts, businesses, and others will meet at the FTC to discuss the nature of the problem, precautions companies and consumers can take to protect themselves, and essential steps if your business has been victimized.
It's called ransomware and according to the FBI, attacks aren't just proliferating. They're becoming more sophisticated, too. The September 7th event – which is part of the FTC's Fall Technology Series – will begin at 1:00 p.m. with remarks from FTC Chairwoman Ramirez. In addition to a presentation from the FTC's Office of Technology Research and Investigation and NYU's consumer science department, the Ransomware workshop will feature three panels:
An Overview of the Ransomware Threat;
Best Defense Tactics Against Ransomware; and
What Happens If You Become a Victim?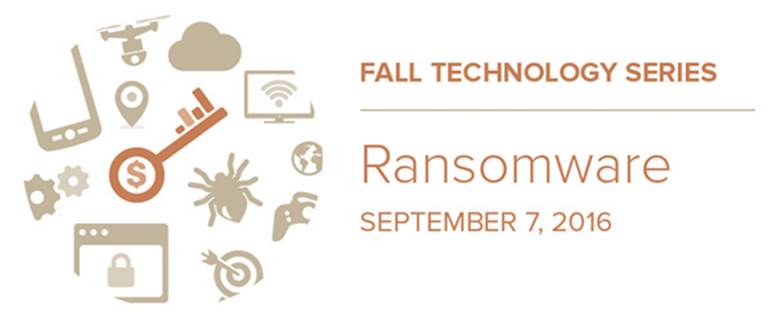 Check out the agenda to see who's speaking.
The afternoon event will take place at the FTC's Constitution Center conference facility, located at 400 7th Street, S.W., in Washington, D.C., at Metro's L'Enfant Plaza Station. It's free, it's open to the public, and you don't have to pre-register.
Can't make it to DC that day? Watch the webcast. We'll post a link a few minutes before the event goes live at 1:00 ET on September 7th.
While you have your calendar handy, mark these dates for upcoming installments in the Fall Tech Series:  Drones on October 17th and Smart TV on December 12th.