By: Lesley Fair | May 18, 2016 1:08PM
What's on consumers' minds is what's between their ears. A proposed settlement with LearningRx, a Colorado-based franchisor with more than 80 "brain training" centers across the country, and CEO Ken Gibson is the latest in a growing line of FTC cases challenging false and deceptive claims about improved cognition.
Who did LearningRx target in an extensive marketing campaign for its one-on-one programs? In a word, everyone. Parents of kids with autism or ADHD. Students wanting a boost in board scores. Athletes looking for an extra edge. People interested in upping their IQ and income. Patients struggling with stroke or traumatic brain injury (TBI). And older Americans concerned about dementia and Alzheimer's disease.
On its website, on Twitter and Facebook, in radio and print ads, and in direct mail promotions the defendants claimed that LearningRx pretty much had something for everyone:
"With the right program, most children who have been labeled as having ADHD, ADD or other learning disabilities can improve from three to five grade levels and about half the students no longer require medication."
"Doctors had told us there were so many things [student diagnosed with autism] could never do. Now he's in regular classes, he's reading on grade level, he's doing well in math like never before."
"LearningRx one-on-one brain training gets 7 times the improvement of tutoring for a fourth of the cost and in less than half the time!"
"LearningRx brain training is proven to increase IQ by an average of 15 points or more. That means for every dollar spent on brain training, there's a return of $127 over a client's lifetime."
"A recent 34-year-old LearningRx trainee suffering TBI effects from an IED blast in Iraq averaged a 53.1 percentile cognitive skills gain after completing 18 weeks of custom brain training. His largest gains were in the specific skills most problematic in cases of severe TBI: short-term memory (77 points) and working memory (70 points). In this soldier's case, these gains produced virtually full functional restoration."
 "When a neurologist told me I was in the early stages of Alzheimer's, I was devastated. . . . I got on the phone and called the LearningRx Brain Training Center in Bossier City, Louisiana where I live. Could brain training help me? I'd soon know. . . .Thinking, reading, talking – even making decisions – got faster and easier. My neurologist tested my brain function and said it had jumped from 77.1 to 95.9!"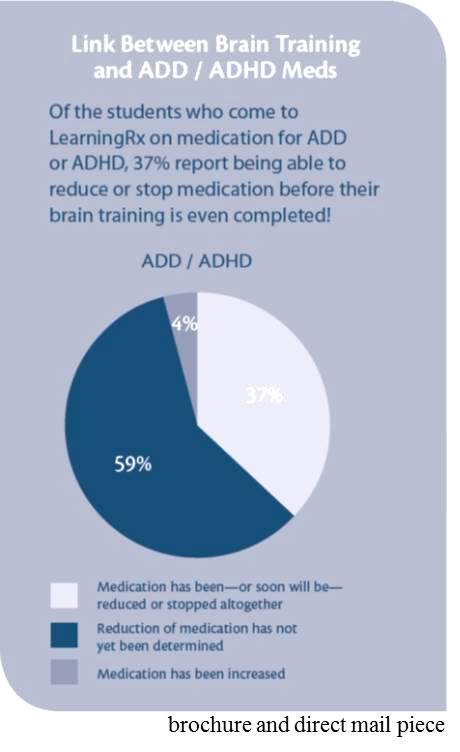 Skeptical? The company claimed to have solid evidence to support its promises: "Our results are clinically proven, scientifically measurable and permanent." But according to the FTC's complaint, the defendants didn't have adequate proof to back up their representations. For the same reason, the claim that the benefits of LearningRx brain training were clinically proven was false.
The settlement imposes a $4 million judgment on the company, which – based on its financial condition – will be suspended upon the payment of $200,000 in disgorgement. If the defendants make any of a long list of claims related to dementia, Alzheimer's disease, age-related cognitive decline, ADHD, stroke, autism, traumatic brain injury, or improved work or athletic performance, they'll need randomized and controlled human clinical testing. Other advertised benefits will need to be supported by competent and reliable scientific evidence. (You'll want to read the order for details and definitions.)
The case offers an important heads-up for other companies. No, it's not a coincidence. You have seen an uptick in FTC actions challenging deceptive claims about cognition. From babies to boomers and beyond, people are looking for ways to improve their cognitive function, amp up their performance at school and on the job, and stave off the effects of aging. That's why companies are rushing into the marketplace with purported solutions. But before boarding the brain train, take care to support your claims with solid science.