By: Lesley Fair | May 5, 2015 10:38AM
In the annals of undercover operatives, their work may not be the most glamorous. But the intelligence they glean plays a central role in protecting consumers.
They're the investigators who conduct periodic sweeps to determine if funeral homes are honoring their obligations under the FTC's Funeral Rule. In a sweep announced by the FTC, they visited 100 establishments in six localities and found that 27 funeral homes didn't disclose pricing information, as the Rule requires.
Under the Funeral Rule, funeral homes must provide consumers with an itemized general price list at the start of any in-person discussion of funeral arrangements. Consumers also have a right to get a price list for caskets or outer burial containers before they take a look at those products. What's more, funeral homes can't require people to buy an item – for example, a casket – as a condition for buying other goods or services.
Here are the locality-by-locality statistics of funeral homes that failed to make the required price list disclosure:
Northwest Arkansas:  5 out of 16
Bakersfield, California:  7 out of 11
Annapolis, Maryland:  4 out of 13
St. Louis, Missouri:  3 of 16
Westchester County, New York:  3 of 29
Seattle, Washington:  5 of 15
There's good news, too. All but two of the 27 homes have agreed to enter the Funeral Rule Offenders Program (FROP) – an innovative program run by the National Funeral Directors Association. Rather than face law enforcement, FROP participants agree to undergo training, testing, and compliance monitoring. They make a voluntary payment to the U.S. Treasury in place of a civil penalty, and pay annual administrative fees to the Association.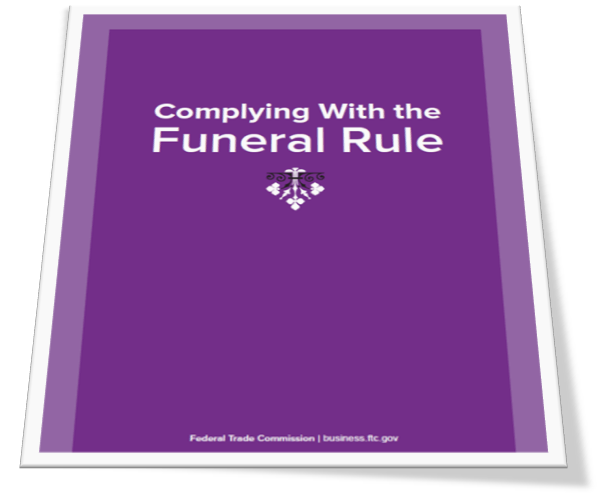 We see FROP as beneficial all around. Future consumers are more likely to get the protections they're due, companies get the nudge they need to comply with the law, and it's accomplished at a reduced cost to the American taxpayer.
The just-announced sweep also identified a number of different funeral homes in those states with only minor compliance deficiencies. In lieu of law enforcement, the FTC has required them to provide evidence that they've corrected the problems.
If you're an industry member, have you bookmarked the FTC's Funeral Rule page? Complying with the Funeral Rule offers do's and don'ts for businesses.
The FTC also has resources for consumers about shopping for funeral services. Print a copy and keep it in that just-in-case file of important papers.