By: Amy Hebert | Mar 26, 2015 1:07PM
What do mystery writers, magicians, and some small business scammers have in common? The art of misdirection. But when it comes to small business scammers, we're on to their tricks. Today the FTC announced that, at its request, a federal court stopped yellow page scammers that were targeting businesses all over the U.S. with a series of ploys. According to the FTC, this is how it worked.
The illusion.  Doing business under names like "American Yellow Group," "American Yellow Corporation," or "Medical Yellow Directories," the companies sent bills for several hundred dollars to small businesses and organizations like medical practices, non-profits, churches, and retirement homes. The bills featured the well-known "walking fingers" logo. But the bills were fake.
The misdirection.  To convince recipients that they had already agreed to buy the listing, scammers included details — like the name of someone from the targeted organization and a visual of how the listing would appear. The invoice even included a U.S. mailing address for payments — which simply forwarded checks to Canada, where the scammers were based.
The embellishment.  If someone ignored the invoice, scammers took it a step further, sending bills for thousands of dollars with statements like "COLLECTION WARNING" and "LAST CHANCE TO PROTECT YOUR CREDIT SCORE IN GOOD STANDING!!!" If a business or organization still didn't pay, scammers doubled down, posing as a debt collector and sending dunning notices.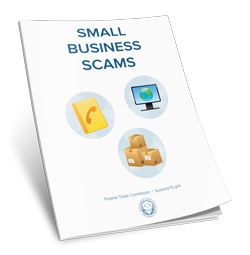 Avoiding small biz scams
The FTC's brochure, Small Business Scams, covers not only The Directory Listing Scam, but also other common rip-offs like The Supply Swindle, The URL Hustle, The Charity Con, and The Check Cheat. 
This isn't the first time the FTC has gone after yellow page scammers. Here are some steps you can take to protect your business or organization from similar frauds:
Share this brochure with your staff, including receptionists and administrative personnel, to help them spot — and stop — a business scammer.
Larger companies usually have a purchasing department. But even in small businesses, it's wise to designate a point person for office supplies, directory listings, subscriptions, and other things you buy periodically. Tell your staff that all purchasing calls should go through that person and keep a central file of your usual suppliers.
Use your company's social networks to educate others about the telltale signs of a B2B scam.
Encourage professional associations or local business groups to issue a warning to members.
Fraudsters often target churches and other nonprofits that depend on volunteers. Take a minute to share this information at your place of worship or with community groups where you donate your time.
File a complaint. If you're getting bogus bills, file a complaint with the FTC at ftc.gov/complaint and with the BBB. If the scheme involved the U.S. mail, submit a Mail Fraud Complaint Form to the U.S. Postal Inspection Service. You also can alert your state Attorney General.