By: Seena Gressin | Feb 3, 2020 7:07AM
We know you're busy with the business of your business. But we're hoping for an hour of your time. Why? It's tax season and tax identity thieves, government imposters, and cyber criminals are out in force. Find out how to help thwart them so you can keep focused on your bottom line.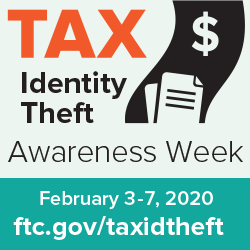 On Tuesday, February 4, join a free webinar, "Protecting Sensitive Business and Customer Information: Practical Data Security Practices for Your Business." Hear from the FTC and IRS about identity theft, the latest imposter scams targeting businesses, and creating a data security plan to protect your customers, employees, and your business. Ask questions, too. We'll answer as many as time allows. If you're not able to view the webinar, we hope you'll listen in.
The webinar is one of several free events the FTC and its partners are hosting as part of Tax Identity Theft Awareness Week, February 3-7. Others feature experts from the Department of Veterans Affairs, U.S. Postal Inspection Service, U.S. Treasury Department, AARP, and the Identity Theft Resource Center. Visit ftc.gov/taxidtheft for details.
What is tax identity theft? It usually refers to the fraudulent use of someone's Social Security number (SSN) to either file a tax return and claim the victim's refund, or to earn wages that are then reported as the victim's income – leaving the victim with the tax bill. Cyber criminals also use stolen Employer Identification Numbers to submit false income and withholding documents to the IRS and get fraudulent tax refunds. Businesses get pulled in when cyber criminals try to access their customer and employee files to steal SSNs, banking information, and more.
The fact is that no business is immune from cyberattack. But, knowing some cybersecurity basics, and putting them into practice, will help you reduce your risk, protect your business, and protect the people in your business. During Tuesday's webinar, we'll talk about next steps, too. The aim is to help you build a data security program that's right for your business.
Help your customers and employees prevent ID theft. Now that tax – and tax identity theft – season is upon us, why not use it as an opportunity to build goodwill? Offer your customers and employees free materials about identity theft prevention and recovery. Visit the FTC's Bulk Order site to find materials that you can make available. While you're there, order Scams and Your Small Business, too. It can help your employees learn to recognize the scammers who show up on your business phone line and in your mailbox, as well as in your computer network.