By: Lesley Fair | Jan 28, 2015 12:09PM
Certain advertising terms are bound to attract consumer attention: "free," "no diet or exercise required" – and for people in the market for mobile data plans, "unlimited." The FTC's settlement with TracFone Wireless will return $40 million to consumers whose unlimited service was throttled or cut off. What can your company take from the case?
TracFone is the country's largest prepaid mobile phone service provider with approximately 25 million subscribers. Since 2009, TracFone has advertised unlimited service using a variety of brand names, including Straight Talk Wireless, Net10 Wireless, Simple Mobile, and Telcel America. The centerpiece of TracFone's ad campaigns was "unlimited talk, text, and data" – sometimes described as "unlimited everything" – for about $45 per month. Sure, phone and text services were attractive selling points. But consumers were particularly drawn to unlimited data plans so they could surf the web, stream videos, and use mobile apps without worrying about how much data they used.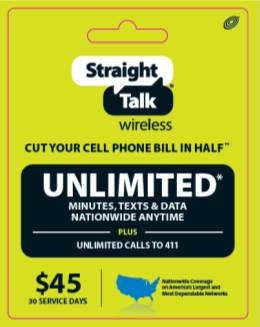 According to the FTC, TracFone broke the "unlimited data" promise it made to millions of consumers by substantially reduced the speed of their service if customers went over certain fixed limits in a 30-day period. Throttled customers often experienced slow-downs of at least 60% and sometimes even 90%, significantly impairing their ability to engage in the very activities people buy a data plan for. Customers whose service was cut off couldn't send or receive mobile data at all.
Once people began to approach the company's fixed data limits, TracFone would send them a prerecorded voice message. Rather than describing the company's data throttling policy, the message just said something like this: "If your excessive data use continues, we may need to suspend or deactivate your data service or terminate your phone service altogether as specified in the terms and conditions of service. . . . "  But according to the FTC, even TracFone's terms and conditions often didn't disclose how it limited customers' data service.
What's more, the FTC says that until at least September 2013, most TracFone's ads didn't explain the throttling policy at all. After that, TracFone started to disclose some information, but not in a way that was clear and conspicuous to consumers. For example, the FTC alleges that TracFone buried it in fine print away from the much more prominent promise of unlimited data or put in on the back of packages where people were less likely to look.
Did TracFone's policy apply just to a tiny percentage of particularly data-hungry customers? No. According to the FTC, TracFone throttled the mobile data service of millions of customers and suspended the service of hundreds of thousands more. Furthermore, the policy had nothing to do with network management and everything to do with an internal TracFone business decision "to control excessive data usage and reduce the high costs related to it."
The complaint charges that TracFone violated the FTC Act by advertising unlimited mobile data service while failing to disclose – or failing to adequately disclose – that it imposed material restrictions on the quantity and speed of data for customers who used more than a fixed amount in a given service period.
The settlement requires TracFone to clearly and conspicuously disclose any limits on the speed or quantity of its data service. In addition, the settlement establishes a $40 million fund for customers whose service was affected. Consumers can get more information about the refund program at ftc.gov/prepaidphone.
What can other companies take from the TracFone settlement?
Mobile products and services may be new(ish), but there's nothing new about the truth-in-advertising principles that apply. And one of those central tenets is that the FTC looks at representations from the consumer's perspective. That's why – to use an obvious example – it's unwise to make the express claim that a service is unlimited if what you really mean by "unlimited" is, well, "limited."
We'll keep saying it as long as we have to: If the disclosure of information is necessary to prevent an ad from being deceptive, the disclosure must be clear and conspicuous. If you advertise a service as unlimited, don't bury key restrictions in blocks of fine print placed where consumers aren't likely to see them. What principles should companies consider in their approach to disclosures? The FTC staff guide, .com Disclosures: How to Make Effective Disclosures in Digital Advertising, is a good place to start. (Do you advertise on TV or in print? It's still worth a read.)
Like some other recent cases, the TracFone refund program will be coordinated with a pending class action. Of course, that case is separate from the FTC's law enforcement action, but when it's in consumers' interest to have refunds administered that way, we'll work with all parties to streamline the process.