By: Lesley Fair | Aug 17, 2017 1:21PM
An online promotion began with the headline "No Scam" – and according to a lawsuit brought by the FTC, it was downhill from there.
Filed in federal court in Houston, the pending complaint names four corporations and two individuals that market business opportunities under the names Work At Home EDU, Work At Home Program, Work At Home Ecademy, Work At Home University, Work At Home Revenue, Work at Home Institute, and others. The defendants use a variety of online advertising techniques to promote their biz opps as "One of the easiest and fastest ways to start making up to $379 per day working part time from home. Without selling anything. Without any special skills." According to one ad, "I'm talking about earning hundreds of dollars per hour from home, without any special skills or experience."
Another ad – the one with the headline "No Scam: Texas Mom Makes Extra $8000/Month in Her Spare Time on the Computer Without Selling Anything" – claimed to recount this "amazing story": "I actually make a steady $7,000-$8,000 a month working from home online. It's enough to comfortably replace my old job's income, especially considering I only work 15 hours a week from my own home online." In a different promotion, the same person stated that she "was not interested in the 'get rich quick' scams you see all over the internet" and touted the "$80/Hr" income she earns with Work at Home EDU.
As the George Gershwin song goes, "Nice work if you can get it" – but the FTC alleges that consumers didn't.
According to the complaint, the defendants made unsubstantiated earnings claims, in violation of the FTC Act, but that's not all. The FTC says the defendants violated the Business Opportunity Rule by – among other things – failing to have written substantiation for the earnings claims, failing to provide prospective purchasers with the required earnings claim statement, and failing to furnish them with the Rule's mandatory disclosure document.
The complaint also alleges the defendants violated the Rule's requirements for ads making earnings claims "in the general media." In addition to having written substantiation, advertisers must state "in immediate conjunction" with the representation, "the beginning and ending dates when the represented earnings were achieved" and "the number and percentage" of all purchasers "who achieved at least the stated level of earnings."
The Court entered a temporary restraining order and set a hearing date. Even at this preliminary stage, marketers can glean some important takeaway tips about promoting business opportunities.
Earnings claims require proof in hand. The FTC's Substantiation Policy Statement has been in place for 34 years and yet there are still promoters making money-making claims without the necessary support. Furthermore, touting best-case-scenario testimonials is an unwise marketing strategy. If the endorser's experience doesn't represent what consumers will typically achieve, the ad should clearly disclose the generally expected performance. (Consult the FTC Endorsement Guides for more.)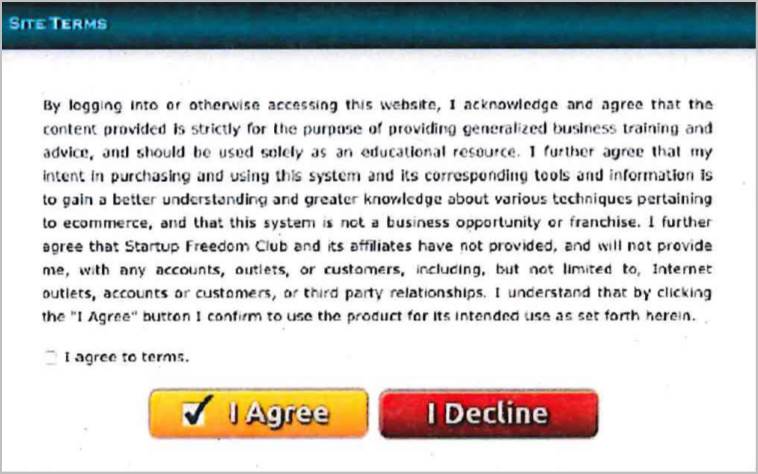 There's nothing fine about fine-print "disclaimers." Once consumers paid, they received an email with a username and password for the "Work At Home Member Login" page. Consumers were then presented with ten lines of fine print and an "I Agree" box. Buried in the tiny type was the curious statement that "this system is not a business opportunity." Furthermore, despite claims in ads that the companies consumers will work with are "the most used sites in the internet market place, like Amazon, Google, Walmart, Delta, Apple and more," the tiny text asked for consumers' agreement that the defendants "will not provide me with any accounts, outlets, or customers" or "third party relationships." As savvy marketers know, placing material information (and especially information that contradicts other claims) in hard-to-read "site terms" is a misguided tactic.
Read the Rule. The FTC amended the Business Opportunity Rule six years ago to provide key protections for consumers. The Rule requires promoters to give specific information to prospective buyers and to clearly disclose certain information in ads. Read Selling a Work-at-Home or Other Business Opportunity? Revised Rule May Apply to You for a recap.
If you're an entrepreneur looking into work-at-home promotions or other business opportunities, consider your options carefully before opening your wallet.