By: Lesley Fair | Sep 18, 2018 11:04AM
We'll grudgingly give this to Innovative Paycheck Solutions and FakePayStubOnline.com. The California-based operation owned by Katrina Moore really did sell fake bank statements, W-2s, profit and loss statements, and "other income verification documents" – although we're still trying to get our head around the oxymoronic advertising claim that the site sold "Authentic Fake Pay Stubs!" The site offered a host of customized options including "standard" fake pay stubs and "premier" ones printed on blue check stock. Buyers of fake bank statements could even choose which of five well-known financial institutions their paperwork would falsely claim to come from.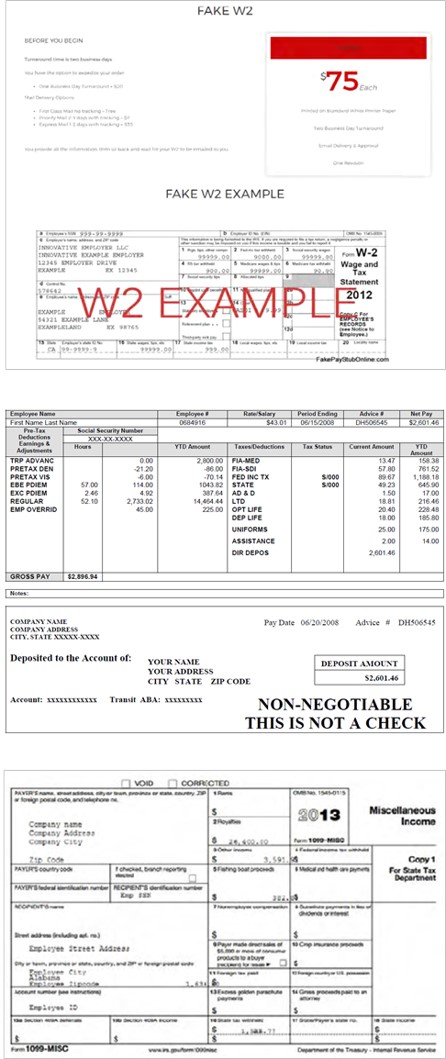 Then there's noveltyexcuses.com, a site based in Beaverton, Oregon, run by Integrated Flight Solutions LLC and Steven Simmons. The site described itself as "Your one stop shop for authentic looking fake pay stubs and other income verification documents." Also selling bogus auto insurance cards, utility statements, cable bills, doctors' excuses, and medical absence reports, the company included the fine-print disclaimer "For Entertainment Purpose Only" on some of its documents. But the phrase was easy for purchasers to remove – and c'mon: How entertaining can a utility bill really be?
PayStubDirect.com and PaycheckStubOnline.com are Texas-based operations owned by George Jiri Strnad II that sell fake W-2s, 1099s, bank statements, and the like. On some pages, the website offered purported justifications for the products it sells. For example, in response to the FAQ "What if I get caught with a fake paystub?" the defendant responded "Caught with what? . . . We are assuming you performed a job, in which you were paid by the customer in cash, and you don't have an expensive and complex software that creates pay stubs." But a closer read suggested what was really going on. Consider this anecdote: "We had a dancer who needed to buy a car. . . . She had the money, wanted to establish credit, but always got paid in tips. So, her financial adviser told her that she needed a loan of some sort. . . . The loan established her as a good borrower." Um, OK. Other statements on the site assured customers that the defendant is "NOT PAYSTUB POLICE" and that the websites "have no way to trace or track your numbers." Touting its products as the "Most Authentic on the Internet," the PayStubDirect homepage advised that "If it doesn't look authentic at first glance, then people will scrutinize more."
In addition, on PaycheckStubOnline, Strnad advertised a related site he owns, iVerifyMe.com. Once a customer bought a "reference number," iVerifyMe would "confirm to anyone who asks" the customer's "hire date, you are in good standing, and your hourly wage if you so wish."
Purported "entertainment" and "verification" justifications aside, lawsuits filed by the FTC allege that the principles behind the three unrelated enterprises were really in the business of selling documents often used to engage in identity theft, tax fraud, and similarly unsavory conduct. For example, ID thieves use fake financial paperwork to get credit cards in consumers' names. Several epic shopping sprees later and the fraudster is history – and the consumer is left to clean up the mess that was once their good credit. Other slippery characters use phony financial forms to apply for mortgages, car loans, or leases. When they default, companies are left holding the bag – a bag that's passed on to consumers in the form of higher credit costs.
The complaints challenge the defendants' conduct as unfair trade practices under the FTC Act. Proposed settlements permanently prohibit them from selling fake documents or services or from providing others the means to deceive people about their identity, finances, residency, taxes or employment. Financial judgments against Katrina Moore and Steven Simmons will be suspended based on their financial condition. The order against defendant George Strnad includes a $133,777 judgment.
Here are two authentically genuine takeaway tips businesses can take from these cases.
Keep an eye out for iffy paperwork. There's no fool-proof way for prospective employers, retailers, landlords, etc., to spot fraudulent financial forms, but an important first step is to give your staff a heads-up that they're out there.
The FTC takes a 360° approach in the fight against identity theft.  The FTC and other law enforcers are waging the war on identity theft on all fronts. Victims should visit IdentityTheft.gov to report what happened and get a personal recovery plan. Consumers should consult FTC resources for prevention strategies. Businesses should take sensible steps to store data securely. And the FTC will continue to challenge deceptive or unfair practices employed by fraudsters to ply their shady trade.