By: Lesley Fair | Feb 5, 2018 2:31PM
Movie legend has it that screen siren Lana Turner was discovered as a teen at Schwab's Drugstore. The millions of people who signed up for online talent search network Explore Talent were also looking to break into the business. But according to the FTC, the company violated the Children's Online Privacy Protection Rule by collecting personal information from kids under 13 without getting the verifiable parental consent required by COPPA. The complaint also alleges that to get people to upgrade their free registrations to $39.95 per month "pro" memberships, the company made false claims to Hollywood hopefuls that their online profiles had been singled out by casting directors.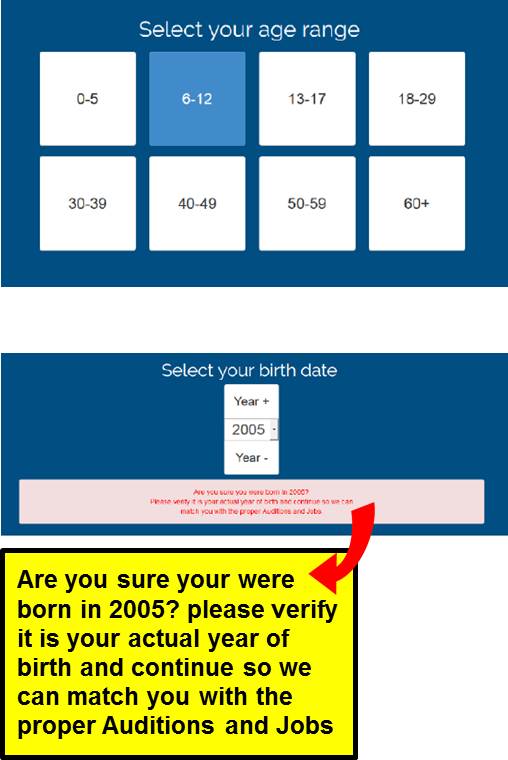 Aspiring actors and models used Nevada-based Explore Talent to look for information about upcoming auditions and casting calls. To create a free account, users submitted their full names, email addresses, and "age range." Two of the age range options were 0-5 and 6-12. On a later registration screen, Explore Talent specifically asked for users' birthdate, including year.
According to the FTC, even when users indicated they were under 13 – the group covered by COPPA – the company didn't place any limitations on their creation of accounts. In fact, Explore Talent collected the same personal information from children as it did from anyone else. Users who indicated any birth year saw this message: "Are you sure you were born in [birth year]? Please verify it is your actual year of birth and continue so we can match you with the proper Auditions and Jobs."
Next, the company asked users for their mailing address, weight, "body type," and measurements for waist, hips, bust, shirt, etc. In addition, they urged users to upload a photo because "agents & casting directors choose only serious candidates with pictures."
Explore Talent also let users become "friends" with other users. Because the company didn't impose any age-related restrictions, adults registered on the site could send direct private messages to children without their parents' knowledge or permission. What's more, profiles were publicly visible, meaning that people with accounts – and unregistered visitors to the site – could search for users by name, location, and age.
The FTC's concerns about the company's business practices didn't stop there. To convert users to the $39.95 monthly pro membership, the company pitched the paid service this way: "Want to land Auditions and get Hired? Agents constantly [need] new faces, Upgrade to PRO so they can find you." According to the complaint, the company placed unsolicited calls to users of the free service, in many cases falsely claiming that a casting director had specifically chosen that person for a part in an upcoming major motion picture. (A Jack Reacher sequel and The Fast and the Furious franchise were two of the names the company dropped.) The catch, of course, was that to apply for the role, the person had to upgrade to the pro membership. The other catch, the FTC alleges, was that those Schwab's Drugstore moments of getting discovered by a Hollywood bigwig were false.
Count 1 of the complaint charges that the defendant had actual knowledge that it was collecting, using, or disclosing personal information from children under 13, but failed to provide the COPPA-required notice about its information practices. The FTC says Explore Talent also failed to give parents direct notice and failed to get their consent before collecting information from their kids under 13. According to Count 2, the company violated the FTC Act by falsely claiming on its website that it didn't knowingly collect personal information from children under 13. Count 3 covers the company's deceptive campaign to pitch pro memberships.
In addition to injunctive provisions, the order imposes a $500,000 civil penalty, a portion of which will be suspended based on the company's financial condition.
The case offers two COPPA compliance pointers for other companies.
COPPA isn't just for kids' sites. We'd like to think that most companies that operate kid-centric sites are at least aware that they have to honor COPPA's requirements before collecting personal information online from children under 13. But under Section 312.3 of the COPPA Rule, sites of interest to a general audience also may be covered if they have "actual knowledge" that they're collecting personal information from kids. For example, if you ask users for their ages or birth years, pay attention to their answers and adjust your practices accordingly.
COPPA requires clarity and transparency. If your site falls within the ambit of COPPA, be clear about your information practices. Fine print, ambiguous hyperlinks, or key terms buried in long blocks of texts aren't likely to give Moms and Dads the facts about your policies that COPPA gives them the right to. Furthermore, COPPA requires that you notify parents directly and get their informed consent before collecting information from their kids under 13. The FTC has resources to help your business comply with the law.