By: Lesley Fair | Aug 25, 2017 3:19PM
Many historians acknowledge it as the oldest federal law enforcement agency, tracing back to 1772. Benjamin Franklin was integral to its establishment. And the FTC's Criminal Liaison Unit (CLU) is proud to present one of its employees with the Consumer Shield Award, which recognizes outstanding work by a law enforcement officer in fighting consumer fraud.
Congratulations to United States Postal Inspector Clayton E. Gerber.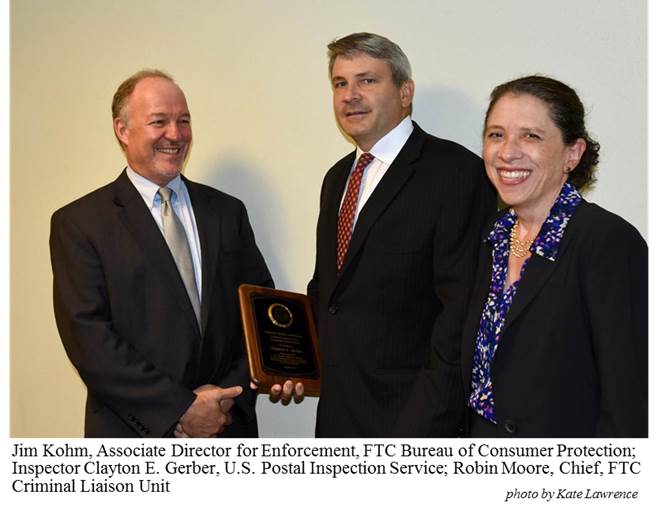 In a citation accompanying the award, Acting Chairman Ohlhausen recognized the "outstanding work protecting American consumers from fraud" undertaken by Inspector Gerber and his team. In addition to his support of FTC civil actions challenging bogus debt relief, unauthorized billing, and sweepstakes schemes, a number of the individuals in those cases have been prosecuted criminally. Inspector Gerber also played a pivotal role in the International Mass Marketing Fraud Working Group, which last year announced an array of actions against direct mailers, list brokers, payment processors, and others engaged in fraud.
According to the citation, "This impressive work, standing alone, demonstrates an exemplary commitment to consumer protection. However, you have also increased the effectiveness of FTC and United States Postal Inspection Service cooperation by developing trainings for Postal Inspectors and FTC investigators and attorneys involved in parallel investigations."
To quote Postmaster General Ben Franklin, "Words may show a man's wit, actions his meaning." The FTC Criminal Liaison Unit's Consumer Shield Award recognizes Inspector Gerber's words and actions in working collaboratively to protect America's consumers.
Watch this video to learn more about how the FTC's Criminal Liaison Unit partners with federal and state law enforcers to fight consumer fraud.