"If you're nearsighted, farsighted, or have an astigmatism, LasikPlus can help fix your vision for only $250." That's just one example of how LCA-Vision – consumers may know the company as LasikPlus or Joffe MediCenter – promoted its services to prospective customers. But according to a $1.25 million proposed settlement with the FTC, the company was eying its pricing through rose-colored glasses, given that only 6.5% of consumers who receive a consultation could qualify for the surgery at the promotional price, and only 1.3% ended up getting it for that price, with most others paying between $1,800 and $2,295 per eye.
The complaint alleges that the $250 price – or $295, in the case of promotions for Joffe MediCenter – was a centerpiece of the company's advertising via TV, radio, direct mail, and the internet. For example, according to LasikPlus ads:
"What if we told you there's a quick, easy way to get rid of the daily hassles of contacts and glasses? And even better…what if it could cost as low as Two Hundred and Fifty Dollars? Well, it's all true…all thanks to LasikPlus. Now…LasikPlus can help fix your vision for only Two Hundred and Fifty Dollars…our lowest price ever!"

"Frustrated with glasses or contact lenses? Now you can improve your vision to 20/20 with LASIK at LasikPlus, America's most highly recommended LASIK provider. Now, for a limited time, get LASIK at LasikPlus for as low as $250. Call now or go online to schedule your no obligation LASIK exam absolutely free."
Image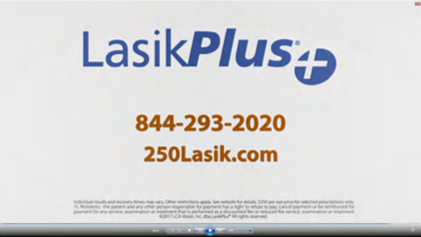 Ads further focused on the $250 price by directing prospective customers to the URL, 250lasik.com.
Ads for Joffe MediCenter made similar pricing claims:
"Make this year the year you finally get that LASIK procedure you've been thinking about. Joffe MediCenter is the Twin Cities' home for custom LASIK. With top laser technology, experienced doctors, and the most affordable pricing for all-laser LASIK. Joffe MediCenter is now offering custom LASIK starting at just $295 per eye."

"$295 LASIK. Call Joffe for your free Lasik eye exam and to See How Your Qualify for $295 LASIK."
According to the FTC, many of the ads touting $250 or $295 LASIK included no qualifying information at all. Others used generic language like "restrictions apply" or "see website for details," often conveyed in print substantially smaller than the $250 or $295 headline. You'll want to read the complaint for more about the allegations, but the FTC says that if consumers went to the LasikPlus website and if they spotted a tiny heart-shaped icon next to the $250 price and if they scrolled down through a dense block of fine print, here is what it said in grey print on a black background:
♥ $250 per eye price applies to patients with qualifying insurance coverage receiving treatment for up to -1.00 diopter with up to -1.00 diopter of astigmatism, performed with the traditional excimer laser (Advantage Plan not available). Prices range between $247 and $2,299 per eye based on prescription, laser, Advantage Plan selected as well as patient's insurance coverage. Previous Laser Vision Correction of any kind are ineligible for the $250 price offer. Not valid at LasikPlus locations in Ft. Lauderdale, FL, Oklahoma City, OK. Best price when compared with other national LASIK provider pricing advertised online as of 10/31/2014.
The FTC further alleges that patients who clicked directly on links to BOOK FREE CONSULTATION NOW or who contacted the company's call center were often immediately scheduled for appointments, bypassing even that hard-to-find online information. The complaint also includes examples of how prospective customers who asked direct pricing questions were rebuffed.
Once prospective customers arrived for a consultation, what they experienced could best be described as dilate-and-switch. According to the complaint, it was only after a substantial expenditure of time – including a lengthy eye exam that typically lasted between 90 minutes and two hours – that most people learned they weren't eligible for the $250 or $295 advertised rate. For example, any prospective customers who were farsighted or had a prescription greater than -1.00 diopter – vision roughly equivalent to 20/30 or 20/40 on the eye chart and good enough to drive without glasses – were told they were ineligible for the advertised price.
The FTC says that the company trained its staff on tactics to persuade people who didn't qualify to switch to the much more expensive regular-priced LASIK, including teaching how to "overcome" patients' objections about price and "transition" them to the full-priced procedure. One example alleged in the complaint: "[P]ersonnel were directed to wait until after the patient eye examinations were complete, and the staff had an opportunity to discuss the benefits of LASIK surgery and 'make the patient really want it,' before revealing that the patient did not qualify for the promotional pricing."
As for the lucky few who did qualify for the $250 price, most also ended up switching to the higher-priced LASIK after learning that the $250 surgery was only available using a much older and less precise laser. Consequently, the lawsuit alleges that only 1.3% of all consumers who received a consultation at Respondent's centers underwent LASIK surgery for the promotional price. 
According to the FTC, hundreds of consumers complained that the ads were misleading. But some of the most notable concerns were voiced by LasikPlus' own personnel. As one staff member said, "I agree that the $250 promotion is deceptive and not consistent with what we are or what we want to be."
A LasikPlus surgeon added, "It doesn't help that we come out as liars with 'come get your lasik for $250.' It angers a lot of patients when they find out our price." One LasikPlus center director took particular issue with how the company buried key information on its website: "I know that we do have a disclaimer in the very small print on the bottom about qualifying Rx's, but it is hard to tell/find. A heart next to something is not usually an indication of a bullet in the small print." But as another member of the LCA team observed, "It's simple bait and switch and it works. Let's not start acting like we're doing it for the sa[k]e of the world."
In addition to a $1.25 million financial judgment based on consumers' wasted time during consultations, the proposed settlement prohibits misrepresentations about the price or total cost of a LASIK procedure, or about any material limitations or restrictions that aren't based on the clinical judgments of the company's affiliated independent medical professionals.
The lessons of the case extend far beyond LASIK. What can other companies that make pricing claims about medical procedures glean from the proposed settlement?
Ditch the bait-and-switch pitch. Do we really need to remind companies that bait-and-switch sales tactics are illegal? Don't lure consumers in with deceptively low prices and then pull the old switcheroo. In addition, take care to clearly disclose material information – including limitations on eligibility – related to promotional prices. The fact that somebody somewhere might qualify for the rock-bottom promotion is insufficient to substantiate the much broader pricing claim.
Don't waste consumers' time. According to the complaint, people often went through a lengthy appointment before they were told they would have to pay much more than the advertised price. Time is money, so creating a sales strategy purpose-built to waste the time of a substantial number of prospective customers is a form of consumer injury.
 
It is your choice whether to submit a comment. If you do, you must create a user name, or we will not post your comment. The Federal Trade Commission Act authorizes this information collection for purposes of managing online comments. Comments and user names are part of the Federal Trade Commission's (FTC) public records system, and user names also are part of the FTC's computer user records system. We may routinely use these records as described in the FTC's Privacy Act system notices. For more information on how the FTC handles information that we collect, please read our privacy policy.
The purpose of this blog and its comments section is to inform readers about Federal Trade Commission activity, and share information to help them avoid, report, and recover from fraud, scams, and bad business practices. Your thoughts, ideas, and concerns are welcome, and we encourage comments. But keep in mind, this is a moderated blog. We review all comments before they are posted, and we won't post comments that don't comply with our commenting policy. We expect commenters to treat each other and the blog writers with respect.
We won't post off-topic comments, repeated identical comments, or comments that include sales pitches or promotions.
We won't post comments that include vulgar messages, personal attacks by name, or offensive terms that target specific people or groups.
We won't post threats, defamatory statements, or suggestions or encouragement of illegal activity.
We won't post comments that include personal information, like Social Security numbers, account numbers, home addresses, and email addresses. To file a detailed report about a scam, go to ReportFraud.ftc.gov.
We don't edit comments to remove objectionable content, so please ensure that your comment contains none of the above. The comments posted on this blog become part of the public domain. To protect your privacy and the privacy of other people, please do not include personal information. Opinions in comments that appear in this blog belong to the individuals who expressed them. They do not belong to or represent views of the Federal Trade Commission.
Dear ftc.gov administrator, Your posts are always well thought out.
Dear ftc.gov administrator, You always provide clear explanations and step-by-step instructions.
More from the Business Blog
Get Business Blog updates