In the annals of marketing, "pre-approved" ranks right up there with "free" and "low-calorie" as a term guaranteed to attract people's attention. The FTC just announced a $3 million proposed settlement with Credit Karma for allegedly luring consumers in with deceptive promises they had been "pre-approved" for financial products, including major credit cards. The truth? For many of these offers, almost a third of the people who received a "pre-approved" offer from Credit Karma and went to the time and trouble to apply for it were denied.
Credit Karma has a consumer-facing website and mobile app where people can access credit information and find financial calculators and other resources. Credit Karma also uses its site and app to market third-party financial products, including credit cards. To use most of Credit Karma's tools, people must sign up for an account by providing personal information, including their name, date of birth, and last four digits of their Social Security number. Credit Karma also collects additional information about them from other sources – and the company isn't fooling about that. The complaint alleges that Credit Karma "has amassed over 2,500 data points, including credit and income information, per member."
Beginning in 2018 and for at least three years after that, Credit Karma made "pre-approved" claims on its website, through its app, and in email marketing to consumers. For example, one email sent to people with Credit Karma accounts used the subject line "You're pre-approved for this Amex Card." When consumers opened the message, they saw a picture of the credit card and the assurance "you're pre-approved."
Image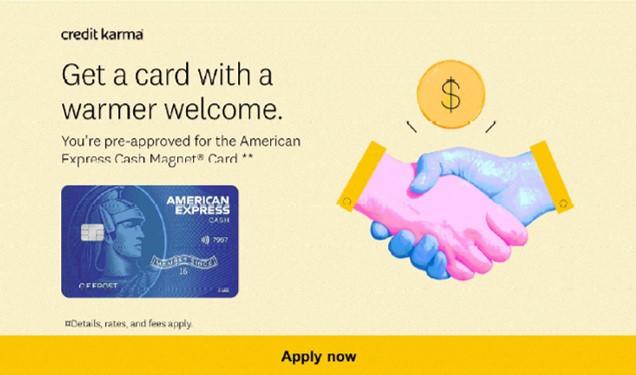 Credit Karma pushed the "you're pre-approved" message throughout its marketing campaign, using large type, repetition, and colorful graphics. But even to the extent that Credit Karma made any purported qualifications to that express claim, the "disclaimers" were often smaller and less noticeable than the prominent "pre-approved" claim. And even if consumers read the additional text, Credit Karma assuaged concerns by using reassuring statements like "Approval isn't guaranteed, but 90% of pre-approved applicants get this card."
So what really happened when consumers decided to take Credit Karma up on those "pre-approved" offers? According to the complaint, for many offers, almost a third of the "pre-approved" people who applied were denied, based on underwriting review – the actual process used by the financial product companies to make actual approval determinations. What's more, when consumers applied for credit offers, the complaint alleges that the financial entity made a "hard pull" of their credit report, which generally lowers a consumer's credit score – hardly what consumers were expecting when they had been told they were "pre-approved." The upshot: After wasting a significant amount of time applying for offers, many consumers found themselves without the "pre-approved" credit card or loan and with a damaged credit score that made it harder for them to get other financial products in the future.
You'll want to read the complaint for details, but the FTC alleges that Credit Karma knew what it was doing in emphasizing the "pre-approval" claim and rejecting alternative ways to describe the offers. For example, the company conducted A/B testing to compare versions of its marketing materials and learned that the "pre-approval" claim resulted in an increase in click rates when compared to a version that told people they had "excellent" odds of approval.
Credit Karma could hardly be surprised that its "pre-approval" claims conveyed certainty to consumers. The company's own training materials advised its customer service representatives they could expect to hear from people asking "I was declined for a pre-approved credit card offer .... How is that possible?!?!?!" Good question. As one Credit Karma employee put it, "If you are told you are pre-approved that should mean you are pre-approved. That shouldn't mean you have a good chance. If all you have is a good chance then we should call it that."
In addition to requiring $3 million for consumers harmed by Credit Karma's actions, the proposed settlement prohibits the company from making deceptive claims about whether people are approved or pre-approved for a credit offer or about the odds or likelihood they'll be approved. Once the proposed settlement is published in the Federal Register, the FTC will accept comments for 30 days.
What can other companies take from the action in this case?
The FTC will continue to illuminate dark patterns. The 2021  Bringing Dark Patterns to Light event – and multiple law enforcement actions before and since then – demonstrates the agency's commitment to challenging interfaces, text, design elements, etc., that lure consumers into misleading transactions. The illegal methods companies use vary widely, but they all have one thing in common: They're grounded in deception or unfairness, in violation of the FTC Act.
Time is money. Under the proposed order, the FTC will return $3 million to consumers whose time was wasted by Credit Karma's deceptive claims. The message for other companies is that it's bad business to entice people with misleading representations and then waste their time with an online obstacle course that doesn't result in the advertised benefit.
Think like a customer. Bringing people in under false pretenses is likely to arouse consumer ire and attract law enforcement attention. That's why advertisers should review their websites, apps, and marketing materials through the eyes of prospective customers. Part of that consumer-centric approach should include regularly evaluating consumer complaints and listening to what people are saying to your customer service representatives.
I was to affected by lies and misrepresentation.
I was a victim of this for over a year. I finally paid off some of my collection debts, which allowed me to be pre-approved for more credit cards - or so I thought. The website would say that there was no harm in checking if I was approved, then I almost immediately thereafter got a message that I wasn't approved, then another message saying there was a hard inquiry on my credit score, which then brings down my credit score. I thought I was going crazy with all the "pre-approved" messages, but I see now it was all a part of a bigger scam. I may stop using Credit Karma altogether now.
I too am a consumer that was denied after being told I was approved by credit karma.
I too was a victim of this deceptive practices by credit karma for ore approvals for loans and credit cards more than 3 times I applied and was denied it cause a drastic drip in my score due to inquiries made by this deceptive practice
I didn't think by applying for the credit cards or small loan would effect my credit score because it said I was approved, But my score took a big drop and I wasn't approved. Very upsetting! Does anyone know where to go to fill out a form to file against Credit Karma? Thank you.
Yup! I got totally scammed a couple of times…ARG!!🤬😤😡😖😠!!
Is it all makes now, my credit has dropped several times and getting denied because of the hard inquiry on my credit score. My score is not horrible but it's not awesome either….I feel like CK maxes things worse! And now I know how they made there money for something they claim is free🤬
I was a victim of Credit Karma as well! I've gotten the pre approvals but when I apply it says that I'm not approved and then I get a hard inquiry on my credit causing my credit score to go down! When you do multiple applications because they say you're pre approved but then get denied those hard inquiries add up and has had a bad affect on my credit score.
I have applied for numerous pre approval cards and loans and been turned down. I'd like to know how to get part of this settlement. It has definitely affected my credit.
They just did this to me again. They have been doing it to me for years now.
I was told I was pre-approved for credit cards and an auto loan and was denied all of them. Still here struggling to find way to get a vehicle and wasted my time thinking they could help me. Plus my score dropped more
This has been happening to me also for several years. I would apply and be denied and then my credit score dropped. The reason I have Credit Karma is to improve my credit . I'm 52 and I want to be compensated for what they have done to me and everyone else that trusted them.
This happens to me so many times years ago and I stopped applying because I figured out I wouldn't ever get approved and I kept having my score go down when I stopped it slowly went back up. How do we become part of this compensation?
I was also preapproved for a loan when I suddenly needed To pay for medical Surgery. When I went through the hassle of applying for the loan at the end I was denied. Then I had to cancel my surgery due to the denial of my loan. This was so frustrating made me very angry This was so frustrating made me very angry.
I am a victim as well and I'm trying to figure out how come I was not contacted in regards to this, I still have an open account with him I need to delete my information. I need to know how to be a part of this class action suit.
I'm so glad to see , that I wasn't going crazy and it was very misleading on their pre-approvals for credit cards, and an auto loan. It finished my credit very badly, and I agree they should be sued and the people should be compensated. It's time for these companies to he held accountable!
SO, the FTC is getting 3 Million BUT we the people that were Actually Affected by thus GET NOTHING? Are you folks really okay with this?
Yes this has got me a few times. Wasn't approved for any of them
I hadn't applied for credit cards before 2018 because I prefer cash. I began trying to build a credit profile after the injury of my daughter, wanting to by a house. I signed up for credit karma and I even have a savings account with them. Several times I received pre approvals for credit cards that I didn't end up qualifying for, which in turn, continuously lowered my credit score. I eventually stopped using credit karma but I'm wondering why I haven't received compensation from this settlement.
I was a victim too! I got a ton of pre approvals even 90% approval rating only to be turned down and my credit score decrease. Unacceptable!
Can anyone help me locate the lawsuit form. I am unable to find it.
This has also happened and was denied after credit karma said I was pre approved
I, also am a victim of the credit karma pre approval for loans and credit cards. I'm glad something has been done about it
I also had this happen to me but I have also had pre-approvals on loans but same result. Like to know how they are going to give compensation for that.
My husband and I both were done this way. I was preapproved to refinance my car and also 2 credit cards but was denied when I applied. My husband was denied 2 cards as well when he applied after saying he was preapproved. How do we sign up for this lawsuit?
I was definitely quite on quote "pre approved" then get letters I'm the mail stating otherwise. Its sad how big corporate companies get a thrill on misinforming innocent people who are simply trying to better their lives.
I too was impacted by this deceptive practice. While working on my credit, and paying off debts i received a notification from credit karma stating I was pre-approved for a certain card. I applied and was denied. My already vulnerable credit took a hit..I was extremely disappointed
I was Deceived by Credit Karma with pre approvals that ultimately lowered my score and I am stuck with hard inquiries on my credit report because of them
I was told that I was pre approved for a refinance of my car loan and when I applied it denied me also pre approved for a credit card and was deny
They have used me several times for pre approved and I got denied and my credit score keeps going down because of them how do I make claim to this.
I to am a victim of the credit karma scam getting you're pre approved just to get hard inquiries on my credit report from a 670 to a 530 that's a big change how do I file a claim
I was a victim of that myself as well. Should've went with my first gut!
I actually had a pretty decent credit score of around 678 but after applying for a number of items on the credit Karma site that I have been supposedly pre-approved for or at least led to believe I would be approved, my credit score has seen a significant decline and now where it stands its like the only thing I can even be approved for is a secured card because now my score is sitting in the very low 500s and upper 400s. I don't see how I could even begin to raise my score at this point. Its really sad that my entire life is truly affected due to the dishonesty of just one company. Since my credit score has become so worthless it has took not only a financial toll on me but also makes me feel next to worthless, constantly struggling with mental health issues now, and not being able to enjoy life in general because of the impact this has had on my life. Now, I also do not have a vehicle and due to my credit score, and working my gluteus maximus off over 40 hours per week, I still can't afford a vehicle. I literally have to walk over two miles one way every week to get my medication from the pharmacy that I need just to be able to survive and stay alive. Im at a loss for words and life in general and can't believe the impact this really has took on my life. :'( :'(
Their agenda was always to ruin people's credit with deceptive and false advertisements! Another scheme to keep the low class exactly where they at.
I'm a victim of this, it even said "excellent odds", still got denied and credit went down a few points, even though it says applying won't harm your credit …
How does one make a claim?
I have experienced this with credit karma going back at least 3 years.
Is there any way to be included in this suit?
I was shocked at how they could make such claims and when I applied was denied....and hard inquiries made!
I am a consumer of credit karma and i expect to be compensated
i have proof beyond reasonable doubt.
credit karma ruined my credit
I was also a victim of this. They constantly had me as 'pre-approved' for credit cards and personal loans, yet when I needed to open a new card and had an emergency expense, I was denied. My credit score severely impacted by these applications that I only submitted because Credit Karma insisted my approval odds were highly positive. Each denial reduced my credit score to the point where I can't even apply now, and I only applied to 2 or 3. But that was enough in the credit world. I was not able to secure ANY funding because I trusted their 'pre-approval' statements; that they had some algorithm working in the background finding offers that gave me the best chance of approval. Now it seems it was all smoke and mirrors. If not for what their website and emails said I would have shopped around and found places to apply where I deemed good approval odds. I've searched for ways to send a claimant form/become a part of the lawsuit/add self as injured party, but have not been successful. Given the harm they caused I expect to be compensated, however they are going about determine those harmed.
I tok was a victim of credit karma.
How do I add my name to the lawsuit
I am a victim of this and I am awaiting my claim. They are actually still sending the pre-approval cards for me to check for approval in which I will not
This too happened to me and lowered my credit score. How do you seek compensation?
I was tricked into applying for credit card offers because Credit Karma sent me messages saying I was pre-approved, so I applied for them and they ran my credit and denied me and my credit score declined. How do I get on the lawsuit list?
This happened to me I applied for several credit cards and personal loans, I was sent offers saying I was per approved just to find out I was not complete waist of time and effort not to mention my information getting put out there, I also would like to be compensated.
They got me numerous times throughout the years with their false "approval" scheme , several hard inquiries that I got denied for . How do I sign up for this or will I automatically be added
This happens to me credit karma saying a
Loan was highly approval then when I applied denied and they wanted a much higher rate! This has caused fluctuations in scores and other approvals last few years! We should all be compensated
More from the Business Blog
Get Business Blog updates