In the annals of marketing, "pre-approved" ranks right up there with "free" and "low-calorie" as a term guaranteed to attract people's attention. The FTC just announced a $3 million proposed settlement with Credit Karma for allegedly luring consumers in with deceptive promises they had been "pre-approved" for financial products, including major credit cards. The truth? For many of these offers, almost a third of the people who received a "pre-approved" offer from Credit Karma and went to the time and trouble to apply for it were denied.
Credit Karma has a consumer-facing website and mobile app where people can access credit information and find financial calculators and other resources. Credit Karma also uses its site and app to market third-party financial products, including credit cards. To use most of Credit Karma's tools, people must sign up for an account by providing personal information, including their name, date of birth, and last four digits of their Social Security number. Credit Karma also collects additional information about them from other sources – and the company isn't fooling about that. The complaint alleges that Credit Karma "has amassed over 2,500 data points, including credit and income information, per member."
Beginning in 2018 and for at least three years after that, Credit Karma made "pre-approved" claims on its website, through its app, and in email marketing to consumers. For example, one email sent to people with Credit Karma accounts used the subject line "You're pre-approved for this Amex Card." When consumers opened the message, they saw a picture of the credit card and the assurance "you're pre-approved."
Image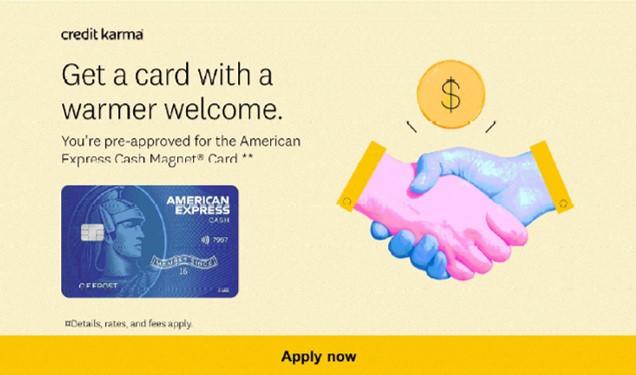 Credit Karma pushed the "you're pre-approved" message throughout its marketing campaign, using large type, repetition, and colorful graphics. But even to the extent that Credit Karma made any purported qualifications to that express claim, the "disclaimers" were often smaller and less noticeable than the prominent "pre-approved" claim. And even if consumers read the additional text, Credit Karma assuaged concerns by using reassuring statements like "Approval isn't guaranteed, but 90% of pre-approved applicants get this card."
So what really happened when consumers decided to take Credit Karma up on those "pre-approved" offers? According to the complaint, for many offers, almost a third of the "pre-approved" people who applied were denied, based on underwriting review – the actual process used by the financial product companies to make actual approval determinations. What's more, when consumers applied for credit offers, the complaint alleges that the financial entity made a "hard pull" of their credit report, which generally lowers a consumer's credit score – hardly what consumers were expecting when they had been told they were "pre-approved." The upshot: After wasting a significant amount of time applying for offers, many consumers found themselves without the "pre-approved" credit card or loan and with a damaged credit score that made it harder for them to get other financial products in the future.
You'll want to read the complaint for details, but the FTC alleges that Credit Karma knew what it was doing in emphasizing the "pre-approval" claim and rejecting alternative ways to describe the offers. For example, the company conducted A/B testing to compare versions of its marketing materials and learned that the "pre-approval" claim resulted in an increase in click rates when compared to a version that told people they had "excellent" odds of approval.
Credit Karma could hardly be surprised that its "pre-approval" claims conveyed certainty to consumers. The company's own training materials advised its customer service representatives they could expect to hear from people asking "I was declined for a pre-approved credit card offer .... How is that possible?!?!?!" Good question. As one Credit Karma employee put it, "If you are told you are pre-approved that should mean you are pre-approved. That shouldn't mean you have a good chance. If all you have is a good chance then we should call it that."
In addition to requiring $3 million for consumers harmed by Credit Karma's actions, the proposed settlement prohibits the company from making deceptive claims about whether people are approved or pre-approved for a credit offer or about the odds or likelihood they'll be approved. Once the proposed settlement is published in the Federal Register, the FTC will accept comments for 30 days.
What can other companies take from the action in this case?
The FTC will continue to illuminate dark patterns. The 2021  Bringing Dark Patterns to Light event – and multiple law enforcement actions before and since then – demonstrates the agency's commitment to challenging interfaces, text, design elements, etc., that lure consumers into misleading transactions. The illegal methods companies use vary widely, but they all have one thing in common: They're grounded in deception or unfairness, in violation of the FTC Act.
Time is money. Under the proposed order, the FTC will return $3 million to consumers whose time was wasted by Credit Karma's deceptive claims. The message for other companies is that it's bad business to entice people with misleading representations and then waste their time with an online obstacle course that doesn't result in the advertised benefit.
Think like a customer. Bringing people in under false pretenses is likely to arouse consumer ire and attract law enforcement attention. That's why advertisers should review their websites, apps, and marketing materials through the eyes of prospective customers. Part of that consumer-centric approach should include regularly evaluating consumer complaints and listening to what people are saying to your customer service representatives.
It is your choice whether to submit a comment. If you do, you must create a user name, or we will not post your comment. The Federal Trade Commission Act authorizes this information collection for purposes of managing online comments. Comments and user names are part of the Federal Trade Commission's (FTC) public records system, and user names also are part of the FTC's computer user records system. We may routinely use these records as described in the FTC's Privacy Act system notices. For more information on how the FTC handles information that we collect, please read our privacy policy.
The purpose of this blog and its comments section is to inform readers about Federal Trade Commission activity, and share information to help them avoid, report, and recover from fraud, scams, and bad business practices. Your thoughts, ideas, and concerns are welcome, and we encourage comments. But keep in mind, this is a moderated blog. We review all comments before they are posted, and we won't post comments that don't comply with our commenting policy. We expect commenters to treat each other and the blog writers with respect.
We won't post off-topic comments, repeated identical comments, or comments that include sales pitches or promotions.
We won't post comments that include vulgar messages, personal attacks by name, or offensive terms that target specific people or groups.
We won't post threats, defamatory statements, or suggestions or encouragement of illegal activity.
We won't post comments that include personal information, like Social Security numbers, account numbers, home addresses, and email addresses. To file a detailed report about a scam, go to ReportFraud.ftc.gov.
We don't edit comments to remove objectionable content, so please ensure that your comment contains none of the above. The comments posted on this blog become part of the public domain. To protect your privacy and the privacy of other people, please do not include personal information. Opinions in comments that appear in this blog belong to the individuals who expressed them. They do not belong to or represent views of the Federal Trade Commission.
I was also played by this scam. Denied "pre approved" cards, loans and other offers. I hope they compensate users. Will never use credit karma again
I was also a victim of this on multiple occasions I need to be compensated.
3 million dollars isn't nearly enough for how badly we have been affected . I applied to 3 different credit cards because of my approval odds and was denied . I can't get a car or anything important because of how low my credit score has dropped . How is 3 million going to help all of us ?????? ITS NOT
I was deceived by credit karma into thinking ny approval odds had improved so I put in for auto loans AND 4 credit card offers and was denied by all that left me with 5 inquiries and dropped my score as well which completely killed my progress on my credit report
This has happened to me as well.
Where do I sign up for this lawsuit??
I was a victim of this multiple times through credit karma but couldn't understand why I was getting hard inquiries and not being approved. Really unfortunate for everyone affected
I was a victim of this. So will I be compensated or only the highly favored?
I as well as my husband fell under this also, with pre-approval and then denied! And as other have sd it is still going on as of now on credit karma!!!
We needed a lona for legal help as well as it says to refinance our vehicle loan and even our mortgage....
I would like to know what information we would need to file or evidence of proof to show that we are victims of credit karma, then and NOW!
Victim waste my numbers an time.
The Credit Karma Card Company had charged me $24 dollars for money that wasn't even on the card and they was messing up my 700 credit, because of that
How do you include yourself in this ? It was same situation for me.
I was also a willing custo.wr who had excellent approval odds only to be denied i want compensation
I also was a victim to this would have made a world's difference getting what they promised
I was a victim of Credit Karma deception several times. Denied several loans, now my credit score has dropped drastically!
I was a victim of Credit Karma giving me preapprovals to finance an auto loan as well as credit cards and personal loans on my credit report and when I applied, I was denied. I stopped applying and now I disregard the preapprovals offers. My credit was checked multiple times and caused a decrease in my credit score multiple times.. I expect to be compensated from the results of this lawsuit and I may stop using Credit Karma
I am also a victim to credit karma pre approval loan and nothing but heartache in a time of need. I am still receiving these emails but now just ignore them.
Sincerely,
Nichola Livingston
I was a victim as well. Hard inquiries are hard to get off so to provide false hope and run my credit is wrong. Now how do we fight to remove the inquiries? How do we claim a part of this settlement? Who is considered a victim?
I was a victim of Credit karmas pre approval application several times. I wish to be compensated and involved with the law suit
I need to know how to join this ASAP for the number of false inquiries and credit scores dropped over the past 2 years because of this
I was reestablishing credit after bankruptcy and they did it to me last year
I get a lot of credit card pre approvals from them. Offers for personal loans that have negatively impacted my credit score for years. So yes I DEFINITELY want to be compensated
I was a consumer during that time frame and was denied on pre approvals from credit karma and went on my credit report. I expect to be compensated as well.
I had this happen to me several times...had me trying everything to get approved. Get my hopes up then you're denied. I thought it was just me.smh
I too was a victim of this false approval and the only reason I applied for the loan was that credit karma stated I had outstanding approval chances and assured my credit score would not be affected when in fact it did affect my credit score and caused it to drop tremendously. I would like to know how they will compensate all that were affected by this ?? Does anyone know?
I've had this happen to me several times with credit karma. Tried everything to get my score up so I could get approved only to be denied. SMH
I am also someone that had received pre approvals from Credit Karma. Most were for credit cards, some were personal loans, and some were refinancing loans. Never got approved for any of the ones I applied for through them.
I was a victim of this as well, a few times.
I've done this so long it's not even funny. All I need to know is where do I sign up on this class action lawsuit. I've been approved so many times just to be not approved and my credit score pays the price for the false negative leads!!!! We all need justice ⚖️
How are they going to identify victims and how are they going to decide who gets compensated what? Is there some place to sign up for this?
What About false credit scores too.
Im positive I was a victim of Credit Karma giving me preapprovals to refinance an auto loan on my credit report and when I applied, I was denied. I stopped applying and now I disregard the preapprovals offers. My credit was checked and caused a decrease in my credit score. I expect to be compensated from the results of this lawsuit and I may stop using Credit Karma. They are still continuing those "pre-approval" offers
Just happened to me a couple of days ago and several times prior throughout the years. Score went down 54 points because of applying for a pre approved card and denied.
I was a victim of this multiple times!
I will like to be made whole by credit karma
I was a victim of credit karma giving me false pre approval for credit card and it only ruined my credit even more
I was a victim of credit karma giving me was a victim of Credit Karma giving me preapprovals to refinance an auto loan on my credit report and when I applied, I was denied. My credit score was hit with 30 hard inquires after applying for a car and when I got to the car dealership I told them I didn't want my credit pulled but in order for them to check with lenders I needed to do it after I was sent a pre-approval letter. I've told a few of my family members not to use credit karma to check score but to use the annual credit report instead for free.
It happened to me as well about credit card approvals and when applied was denied...
I had also applied for credit cards that I was supposed to be preapproved for and then they did a credit check and it showed up on my credit history and then I was denied the credit card
They did same to me they lie trust me they said guarantee pre approval and nothing but denials and my score going down and down
I have 22 hard inquiries because of preapprovals in 2021
I was also a victim of this pre-approved loans and credit cards and was denied my credit score dropped after applying for a loan.
This happened to me with Kredit Karma. Even when I spoke to them on the phone they were really sketchy in trying to get clarity, they also rejected me more than once
This too has happened to me. I now have credit card inquiries on my credit report that i do not have cards for.
I have numerous emails from credit Karma saying that I have been pre-approved for credit cards and loans. I really have been working on my credit to be able to get a loan so I thought this was great. I had actually done it. After numerous so called preapprovals from 3rd parties and hrs passing along personal information just to be denied for each one was so stressful and time consuming. Now I'm constantly getting emails from different loan companies, but I can't get a loan now because of the hard inquiries on my credit report. Terrible
Same here I was pre approved said no credit checks but it checked my credit.
I had the same problem as well applied and denied on multiple occasions I want in on this lawsuit as well as I feel I was part of that how do I get more info on this
More from the Business Blog
Get Business Blog updates