Like peanut butter and jelly, some things just go together. Then there are things that are bad on their own and even worse when combined. A proposed FTC settlement adds a new duo to that category: false Made in USA representations and deceptive COVID claims. The case was filed by the Department of Justice on the FTC's behalf against Adam J. Harmon and two companies he controls. The action also sends a loud-and-clear warning to the many businesses that have received letters from FTC staff over the years about their Made in USA claims.
Image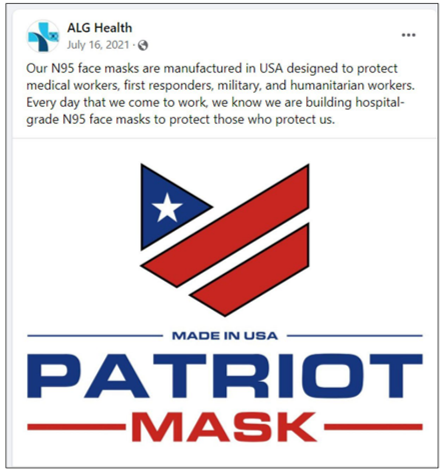 Seeking to capitalize on COVID-fueled demand, Harmon and ALG-Health LLC, began selling personal protective equipment in early 2020. On their website and in social media, the defendants positioned their products as "An American Solution." The defendants claimed, "Our manufacturing facility was built in NW Ohio and is completely staffed by American workers, making ALG Health one of the very few PPE facilities in America that is 100% Made in the USA." As they stated in social media, "Our N95 masks are manufactured in USA designed to protect medical workers, first responders, military, and humanitarian workers. Every day that we come to work, we know we are building hospital-grade N95 face masks to protect those who protect us."
The defendants doubled down on those selling points by combining their Made in USA pitch with the claim that because their products were made in the United States, they provided protection from COVID that was superior to imported products. For example, in a social media post, the defendants warned that "imported products are not tested and could be unsafe," and cautioned healthcare customers to "purchase American-made PPE and masks so that our heroic frontline workers do not have their safety put at risk by relying on foreign-made products."
But according to the complaint, in many cases, "Defendants received Chinese KN95s, unpacked the completed respirators, stripped off Chinese origin labels, printed ALG and NIOSH labels on  the respirators, and then re-boxed the respirators in ALG packaging with MUSA labels." The FTC says in other instances, products advertised with unqualified Made in USA claims underwent some finishing in the U.S., but incorporated all Chinese materials.
The complaint alleges that the defendants violated the FTC Act and the Made in USA Labeling Rule, which prohibits labeling any product with an unqualified Made in USA claim unless: 1) all or virtually all ingredients or components of the product are made and sourced in the United States, 2) all significant processing that goes into the product occurs in the U.S., and 3) the final assembly or processing of the product occurs here, too. The complaint also charges the defendants with making misleading representations that they sold NIOSH-certified, U.S.-origin N95 respirators and that their PPE products were safer or provided superior protection from COVID-19 than imported products.
That's one part of the FTC's case against Harmon and his companies, but the complaint challenges other deceptive claims that go back to pre-COVID times. As early as 2015, Harmon and Axis LED Group, LLC marketed LED lights, tubes, and fixtures, including a line of LED bulbs – called "Patriot Tubes" – as made in the USA. The defendants stated that their "advances in manufacturing processes and efficiency have finally allowed us to produce USA-made products at competitive prices." In 2016 the FTC received reports calling the defendants' Made in USA claims into question. As the complaint explains, after the FTC staff conducted an investigation, "Defendant Harmon admitted Patriot Tubes included significant Chinese components," but claimed they were assembled in the United States. Harmon ultimately acknowledged FTC guidance and caselaw that unqualified Made in USA claims must meet the established "all or virtually all" standard and agreed to market his products in the future consistent with that standard. On January 18, 2017, FTC staff issued a letter on the public record stating the steps Harmon and his company had agreed to take to correct their claims.
Since then, the FTC says the defendants have marketed Patriot LED products as "Assembled in the USA." But according to the complaint, in many instances, Harmon's employees have peeled Made in China stickers off LED products and replaced them with Made in USA labels despite the fact that the products underwent no manufacturing in the United States, other than occasional quality checks.
To settle the case, the stipulated order requires the defendants – among other things – to pay a $157,683 civil penalty. A $2.8 million redress judgment is currently suspended due to their inability to pay. Should the defendants have made misrepresentations about their assets, the FTC will seek to have the suspension lifted and the full judgment due immediately.
The case conveys two important messages for other businesses.
Misleading Made in USA or COVID claims will cost you. The Made in USA Labeling Rule and the COVID-19 Consumer Protection Act give the FTC legal authority to seek civil penalties against companies that make deceptive Made in USA representations or violate the FTC Act by engaging in illegal conduct associated with the treatment, cure, prevention, mitigation, or diagnosis of COVID.
Don't ignore FTC staff warnings. Has your business received a staff warning, a closing letter, or another indication that your representations have attracted law enforcement attention? Take it as a sign that it's time to clean up your claims. "Who? Me?" is an ineffective argument when FTC staff has raised concerns about previous marketing tactics. Consult the FTC's Made in USA page for businesses for guidance, cases, letters, blog posts, and other compliance resources.
It is your choice whether to submit a comment. If you do, you must create a user name, or we will not post your comment. The Federal Trade Commission Act authorizes this information collection for purposes of managing online comments. Comments and user names are part of the Federal Trade Commission's (FTC) public records system, and user names also are part of the FTC's computer user records system. We may routinely use these records as described in the FTC's Privacy Act system notices. For more information on how the FTC handles information that we collect, please read our privacy policy.
The purpose of this blog and its comments section is to inform readers about Federal Trade Commission activity, and share information to help them avoid, report, and recover from fraud, scams, and bad business practices. Your thoughts, ideas, and concerns are welcome, and we encourage comments. But keep in mind, this is a moderated blog. We review all comments before they are posted, and we won't post comments that don't comply with our commenting policy. We expect commenters to treat each other and the blog writers with respect.
We won't post off-topic comments, repeated identical comments, or comments that include sales pitches or promotions.
We won't post comments that include vulgar messages, personal attacks by name, or offensive terms that target specific people or groups.
We won't post threats, defamatory statements, or suggestions or encouragement of illegal activity.
We won't post comments that include personal information, like Social Security numbers, account numbers, home addresses, and email addresses. To file a detailed report about a scam, go to ReportFraud.ftc.gov.
We don't edit comments to remove objectionable content, so please ensure that your comment contains none of the above. The comments posted on this blog become part of the public domain. To protect your privacy and the privacy of other people, please do not include personal information. Opinions in comments that appear in this blog belong to the individuals who expressed them. They do not belong to or represent views of the Federal Trade Commission.
They were warned and tried to cover up by trying to purchase Meltblown and Spunbond from a variety of companies. Not COOL!
More from the Business Blog
Get Business Blog updates