If businesses make coronavirus prevention or treatment claims for their products, it's time to get up to speed on the COVID-19 Consumer Protection Act. The Department of Justice and the FTC just filed their latest action under the law, seeking civil penalties from the marketers of Xlear, a nasal spray the complaint alleges has been deceptively advertised to offer "up to four hours" of protection from COVID-19 and as "part of a layered defense to prevent getting COVID-19." What's more, this isn't the first time that Utah-based Xlear, Inc., and company president Nathan Jones have heard from the FTC about their allegedly misleading COVID representations.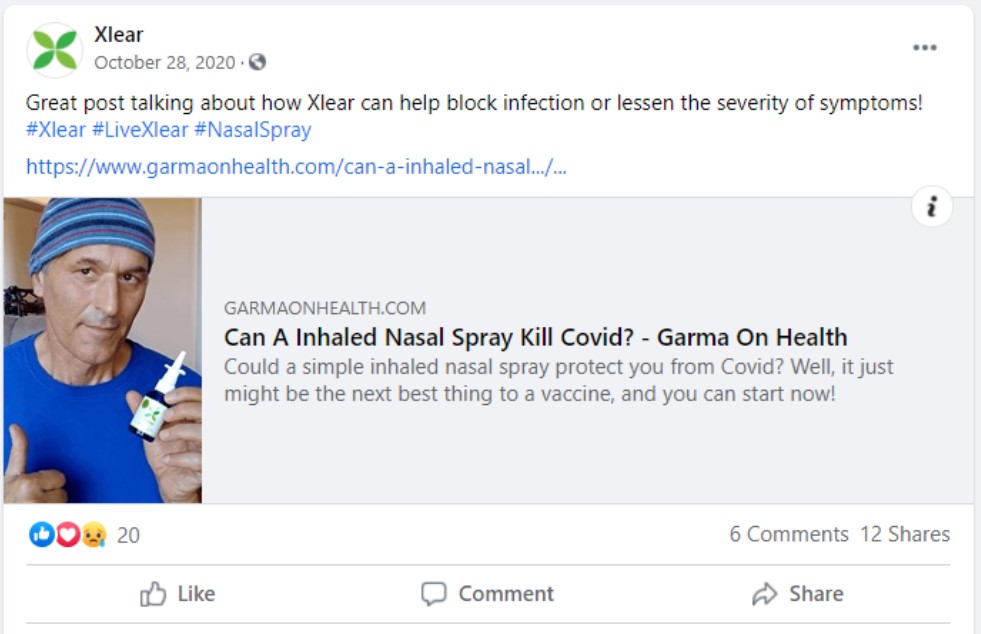 Under the Xlear Sinus Care brand, the defendants sell saline nasal sprays that also contain grapefruit seed extract and the sweetener xylitol. The defendants have promoted Xlear sprays on Facebook, Instagram, YouTube, podcasts, and sponsored TV appearances. They also sell them through national and online retailers. According to the complaint, beginning in March 2020, the defendants shifted their marketing focus to promote Xlear as "a simple, safe, and cheap option that could be an effective solution to the pandemic." The company cited studies at the University of North Carolina and the University of Tennessee that purported to support their advertising claims.
The lawsuit alleges the defendants don't have proper support to back up their promises that Xlear will prevent COVID-19 infection and reduce its severity or duration. What about the defendants' representations that scientific studies at universities substantiate what they say? The FTC and DOJ allege those claims are false.
In the two-count complaint, the FTC and DOJ are asking for – among other things – refunds for consumers, civil penalties, and a permanent injunction to prevent future law violations. The filing of the case sends two important messages to other companies.
When challenging unsubstantiated advertising claims, the FTC will seek the remedies authorized by the COVID-19 Consumer Protection Act. Deceptive COVID-related claims put consumers' health at risk and cause substantial financial injury. For the duration of the public health crisis, the law allows the FTC to seek financial penalties from companies and individuals that engage in deceptive practices associated with "the treatment, cure, prevention, mitigation, or diagnosis of COVID-19."
If the FTC tells you to stop making unsubstantiated claims, stop. In the first year of the COVID crisis, FTC staff contacted hundreds of companies and individuals, raising serious concerns about coronavirus prevention or treatment representations they had made for their products or services. The bottom line was unambiguous: "You must immediately cease making all such claims." In July 2020, one of those letters went to Xlear. According to the FTC, despite promises to revise or remove unlawful claims, the defendants continue to pitch their products as a way to prevent or treat COVID-19. If you or your clients get a Cease and Desist Demand from the FTC, stop making unsubstantiated claims.
The case is pending in federal court in Utah.
 
 
More from the Business Blog
Get Business Blog updates