Like the fighter pilots in the 80s action flick "Top Gun," consumers selecting among internet service providers "feel the need – the need for speed." In a just-filed lawsuit, the FTC and seven law enforcement partners allege that ISP Frontier Communications Corporation has made misleading representations that it would provide consumers with certain internet service speeds. The complaint also alleges that in many instances, Frontier has subscribed and charged people for faster and more expensive levels of service than the company actually provided – or was capable of providing – to those customers.
Frontier provides internet service to more than three million consumers across the country. Almost half of Frontier's customers – many of whom live in rural areas – use DSL to connect to the internet. Frontier offers multiple tiers of DSL service, which correspond to the speed at which Frontier says consumers will be able to download data. As a general practice, Frontier charges higher monthly fees for the higher-speed tiers.
According to the complaint, Frontier has made internet speed a prominent selling point in its marketing. It's not surprising that speed claims would be important to consumers, given that many daily tasks, including streaming video, gaming, telecommuting, and using multiple devices on the same connection, require large transfers of data. At lower download speeds, consumers trying to perform those activities may experience poor performance.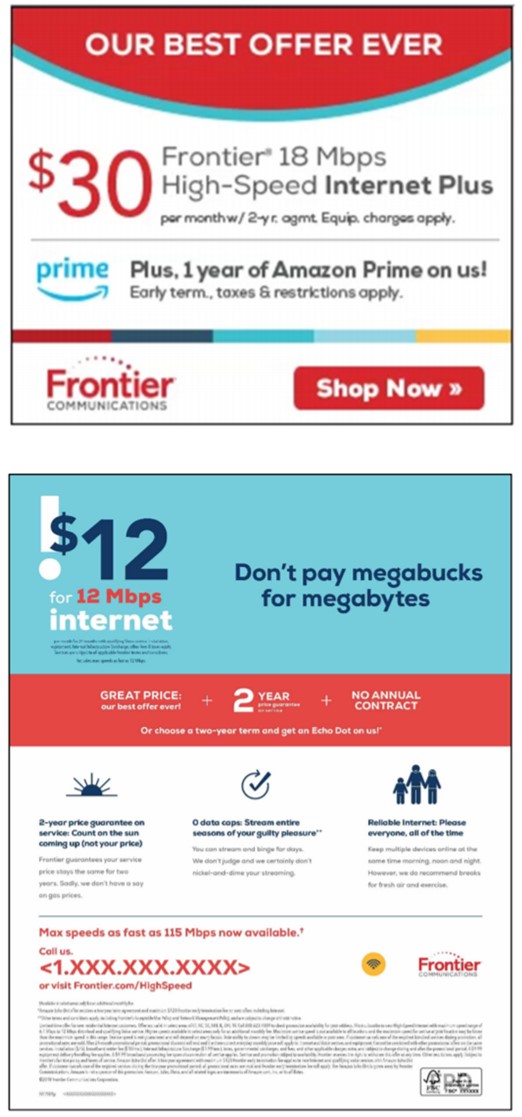 Since at least 2015, Frontier has promoted various tiers of DSL service with specific representations about speed described in megabits per second. For example, one digital display ad cited in the complaint advertises "Frontier 18 Mbps High-Speed Internet Plus." Another promotional piece – a direct mail ad – features the headline "$12 for 12 Mbps internet – Don't pay megabucks for megabytes." But here's what it said in tiny type at the bottom: "Maximum service speed is not available to all locations and the maximum speed for service to your location may be lower than the maximum speed in this range. Service speed is not guaranteed and will depend on many factors. Your ability to stream may be limited by speeds available in your area."
You'll want to read the complaint for details about the FTC's allegations, but here's a summary. According to the complaint, in numerous instances, Frontier has advertised and then signed consumers up for faster tiers of DSL services when Frontier didn't – and often couldn't – provide them with that service. For example, Frontier's sales reps had software tools they could use to offer a variety of speed tiers based in part on a consumer's address. But in many cases, Frontier allegedly has sold consumers subscriptions at speed tiers the company didn't, or couldn't, provide. In some instances, the FTC says Frontier set the maximum speed to homes connected to its network at well under the maximum for the tier and consumers could never receive speeds above the speed Frontier set. Thousands of consumers have complained to Frontier and to government agencies that the company wasn't providing DSL service at speeds corresponding to what people were paying for.
Count I alleges that Frontier has made false or misleading representations that it would provide consumers with certain internet service speeds, including download speeds. According to Count II, Frontier has engaged in unfair billing practices by subscribing and billing consumers for a higher and more expensive level of service than the company actually provided or was capable of providing.
The FTC filed the complaint with the Attorneys General of Arizona, Indiana, Michigan, North Carolina, and Wisconsin, as well as the District Attorneys' Offices of Los Angeles County and Riverside County on behalf of the State of California. The case is pending in federal court in California.
 
More from the Business Blog
Get Business Blog updates